Marte caps wild comeback with 11th inning walk-off
By Alex Stumpf | Sat, 04/28/2018 - 02:37
Starling Marte's 11th inning RBI capped a five run comeback for the Pirates Friday night, surging late to beat the St. Louis Cardinals 6-5.
Trailing 5-0 after five innings, Jordy Mercer's two run double in the ninth tied the game before Marte was the walk-off hero for the seventh time in his career two innings later.
"We have 15 wins now. I think we've won 15 different way," Steven Brault said.
Corey Dickerson lead off the bottom of the ninth with a first pitch double against Cardinals' closer Greg Holland. He came around to score two batters later when Cardinals first baseman Jose Martinez let a Colin Moran ground ball go under his glove.
Mercer followed that with his game-tying double to the wall in center field, with a misplay by Tommy Pham allowing the second run to score and Mercer to go to third.
"I was just being patient with myself," Mercer said. "...I didn't try to do that much, and I think that was the thing I was most proud about."
Brault was pulled after 4.2 innings, allowing five runs- four earned- on five hits and three walks. He struck out three, threw a first pitch strike to seven of his 23 batters faced and retired five on three pitches or less.
Gregory Polanco got the Pirates on the board with a solo home run to right in the sixth. Dickerson made it 5-2 later in the inning when his sacrifice fly brought home Marte.
Marte's game-winner in the 11th plated David Freese, who walked and advanced to second on a wild pitch by Jordan Hicks (1-1).
"We battled, we put a foot down and we took some good swings," Clint Hurdle said.
The Pirates bullpen combined for 6.1 innings of scoreless work, striking out eight on two hits and two walks. Kyle Crick cleaned up Brault's inherited runner in the fifth before Tyler Glasnow tossed the sixth through eighth. Richard Rodriguez posted a zero in the ninth, followed by Felipe Vazquez and the eventual game winner George Kontos in the 11th (1-1).
Glasnow unveils the slider
Glasnow debuted a new pitch in his outing Friday: a slider.
"I've been kind of playing with it in the throwing program and on the mound," Glasnow said. "...I can throw [it] for a strike a lot easier than a curveball."
The pitch caught the eye of pitching coach Ray Searage and reliever Kyle Crick, who is Glasnow's throwing program partner, during said program. They were the ones who told him to throw it in a game.
"I threw one, and ended up throwing six," Glasnow said.
Glasnow said he messed around with a slider for a little bit last year, but never used it in a game situation. He did not use it in spring either and just picked it up again a couple days ago. Crick also throws a slider, which inspired Glasnow to dust off the pitch.give it another shot.
Glasnow's slider comes from a variation of his four-seam fastball grip, turning the ball over a little to the other horseshoe. He believes repeating the mechanics of his four-seam delivery makes it easier for him to throw it for a strike.
Baseball Savant did not pick up Glasnow's new pitch, misclassifying his six sliders as curveballs. Thanks to a noticeable uptick in velocity from his normal curves, it is easy to see which six were sliders, as highlighted in red below.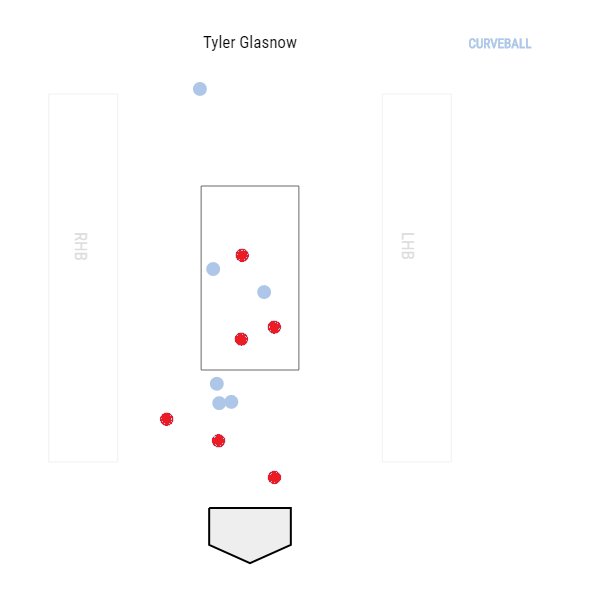 Of those six pitches, three resulted in whiffs. The other three were a called strike, a ball and a weak groundout. It sat at 86-87 MPH.
Kuhl Runnings
Hurdle went to an unlikely source as a pinch-runner in the ninth inning: starting pitcher Chad Kuhl. Moran represented the tying run at first base, but Hurdle elected to put the speedier Kuhl in to run instead.
Hurdle had to go with a pitcher since his four man bench was down to just David Freese and Elias Diaz at the time, neither of whom would be an upgrade on the basepaths.
Kuhl was told during Moran's at-bat that he was going to pinch-run if Moran got on base.
"I was ready to go," Kuhl said. "I had my cleats on already, helmet right behind me, so I was ready to roll."
The situation worked out perfectly, with Kuhl rounding the bases on Mercer's double. Mercer was right on Kuhl's trail rounding second since the pitcher had a hard time reading the ball off the bat.
"I was like, 'Run! Run!'" Mercer joked.
Kuhl reached home uncontested because of Pham's bobble in center.
On Deck:
Trevor Williams (3-1, 2.15) will try to get the Bucs back on track Saturday at 7:05 p.m.. Jack Flaherty (0-0, 1.80) will take the bump for the Cardinals in game two of the three game set.
NUMB3RS:
1: This is the Pirates first win this year when trailing entering the 9th inning (previously 0-10). It is also their first win when trailing after six innings (previously 0-8).
4: Polanco has four hits with an exit velocity of over 105 MPH since Apr. 25: a 105.2 MPH single Wednesday, a 112.7 MPH double Thursday, and a 107.2 MPH home run and 110.5 MPH single Friday.
8: The Pirates are 8-0 this year when Polanco drives in a run.
Share